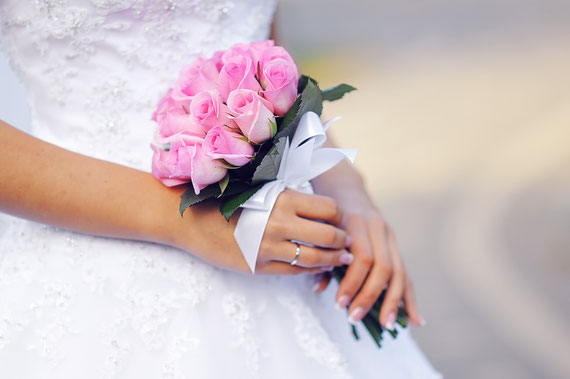 Well, you have found each other at last and decided to marry and make a life together. Just the excitement of being able to say those words and feel the love, comfort and trust in each other is a huge milestone. Now you want to share that with your families, friends, co-workers and the world. Sending announcements and invitations is the most common way of doing that, even in this digital age. This isn't something you want to do on Facebook. Send a proper wedding announcement. That first impression at seeing your invitation will set the stage for your wedding ceremony, so make it count.
There are no rules about what colors you can use, but there are some combinations that are pleasing to the eyes and bring a sense of comfort and security.
People react emotionally to colors. They can trigger a memory or feeling and sense of well-being or stress and arouse emotions. Some bright and lately popular neon colors are too harsh and invasive. There are three effects according to an article by Sommer/Sommer Brain Facts, Neuro Marketing. 
Psychological Effect Based on your personal experiences the color yellow for example, may have a connection to a holiday, heat or freshness.
Symbolic Effect Certain colors can be associated with a specific object such as Sky Blue.
Cultural Effect In the western culture white is associated with innocence and purity, while in the eastern culture it associates with sadness and death.
You can further explore the effects and meaning of colors on the internet.
Lemon Wedding Invitations are experts in blending these choices into beautiful works of art for your invitations. Let us help you combine your favorite colors to compliment your wedding choices and add accents to enhance them with special fonts and designs. Make your invitations pleasing to the eye and captivating to your audience. This may be the first introduction to family and friends about your wedding, so make this memorable and enticing and create a sense of anticipation, excitement, romance and happiness. Some of our most popular collections include:
WEDDING INVITATION COLORS
Green Wedding Theme From a cool Mint Green to a leafy richness, Green is a nature color and is perfect for any wedding theme. Our rustic invitation with your initials in a heart carved into the tree and the branches with bright green leaves and black lettering sets the stage for a comfortable rustic or country wedding theme. The Cruise and Aqua invitation sets with blue lettering are perfect for beach style themes and our Mint and Coral selection combines the fanciness of the minty lace with coral lettering for a bright and cheerful appeal for any setting.
---
Gold Wedding Theme In our selections, there is a good variety and something for every wedding style. Art Deco with Blue lettering on our luxury white cardstock is pleasing and sophisticated. The Pink and Gold for example blend the richness of the bride and groom's names printed in Gold with the accents of rose gold and pink tassels or the White luxury cards with Blush Pink Stripes and Gold Lettering are stunning. Visualize how your names and information will fit these different styles in your choice of fonts and special wording and how they will enhance the RSVP and Detail Cards and perhaps even your Wedding Programs. This can be a beautiful consistent, and classical theme for all your wedding stationery needs.
---
Blue Wedding Theme Ranging from a soft Sky Blue to a darker Navy Blue our colors can blend with your chosen theme. The pretty blue cloud of watercolor on our Pearlescent cardstock with black or maybe Navy lettering is beautiful. Blue is a cool, soothing color. Our night view in Navy Blue on the Bride and Groom invitation with white lettering is a beautiful example of blending the colors for a dramatic effect. The Blue and Gold Damask Invitation is a timeless reminder of classic styles and our Midnight blue sky with a heart traced among the stars with your names inside creates the romance of your story.
---
Pink Wedding Theme There are so many variations of pink, but we cover an array of these shades and want them to convey the happiness and romance of your wedding plans. Our white cardstock and fancy pink background with blue or gold lettering in your choice of fonts such as block lettering, script or calligraphy will delight your guests. The splash of bright pink watercolor with your names in White and blue lettering is very appealing. The pink and navy confetti design with Navy Blue lettering is fun and inviting. 
---
Silver Wedding Theme Printed on our luxury white cardstock, all of our Silver invitation sets are luxurious and elegant, whether you prefer the black and silver dots and silver lettering in your choice of fonts, Silver Peacock Feathers on pearlescent cards and silver letters, or perhaps the soft or darker blue and silver confetti style with Blue lettering, we will make it sparkle for you. Also take note of the Gray Lace Wedding Invitation for a fancier presentation.
---
Purple Wedding Theme The spectrum of purple colors including lavender, lilac, darker royal purple and shades in between are represented. It all depends on which best matches your color palette. The dramatic dark purple with a night time theme, starlit sky and exceptional gold lettering will set the theme for a romantic evening ceremony. The lilac branches are reminiscent of spring and our lavender damask has a soft, vintage, yet timeless appeal.
---
No matter which color palette is your preference our in-house designer will work one on one with you to create the perfect invitation that will dazzle you and your invited guests and leave them excited for the date of your wedding to arrive. Our boutique style approach makes every invitation set a personal work of art created just for you.
Your wedding sets will be beautifully designed. Our costs are reasonable, we offer a 100% guarantee and a very quick turn-around time. Budget friendly pricing make it easier to include a couple of extras and still stay in budget. Consider adding our Wedding Program, Advice Cards or Thank You Notes to your order. This will complete the entire look for your guests and will be a reminder of the most wonderful day of your life. We can make this one of the easiest parts of planning your wedding. You will have your invitations before you know it. Go spend the time you will save by letting us take care of this, shopping for your dress or choosing menu items or even better, on a special date with your beloved. We would be honored to contribute to your most important day by providing you with exceptional, quality wedding invitations and stationery.
Read our customer reviews and have fun exploring all of our choices, but let us do the work for you. We would be honored to be able to contribute to your wedding day with exquisitely designed invitations and stationery.
Come visit our site today to get started.  
Most popular wedding color combinations:
Pink and gold invitations, Silver and royal blue invitations,  Purple and gold invitations,
Navy blue and pink invitations, Coral and blue invitations, Grey and yellow invitations.
---